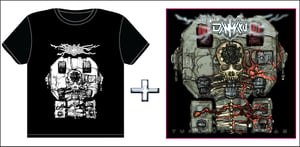 £

14.00 - On Sale
Danmaku's debut album 'Turn Up The Gas' brings you 8 tracks of crushing thrash/death.
Written, recorded, mixed and mastered by Paul Harrington (Anaal Nathrakh/Fukpig), Mike Pilat (formerly of The Ocean) and Stu Pendergast (formerly of Hospital of Death) this album should please all fans of 'glory days' thrash and old school death metal.
Also comes with Danmaku Tshirt - save yourself some money on the combined package.